Return to Nav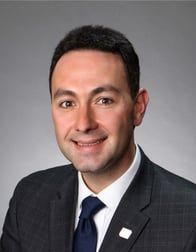 Wealth Management Advisor
Address
222 South Riverside Plaza
Chicago
,
IL
60606
US
Contact Hours
By appointment
About Michael
As Wealth Management Advisor, Michael Dermenjian serves as your wealth management coordinator and consultant. Michael collaborates closely with you and an experienced team of Fifth Third specialists to deliver the right investment solutions for your objectives.
Professional Experience
Michael specializes in Wealth Management for affluent individuals, families and business owners. Michael has been in the financial services industry since 2000 and with Fifth Third Bank since 2009. Michael maintains a consultative approach understanding both short term and long term goals of clients before recommending a solution.

Michael believes in always keeping the client at the center and understanding how as an Advisor with the strength of the bank behind him he can deliver the right solutions for each client. Michael has an extensive background in credit, management, floor trading, money management, estate planning and insurance.
Education
Loyola University Chicago Graduate School of Business, Chicago, IL - MBA Finance
Indiana University School of Public and Environmental Affairs, Bloomington, IN - Bachelor of Science Public Affairs
Indiana University Kelley School of Business, Bloomington, IN - Business Foundations Certificate
Licenses & Professional Designations
About Fifth Third Private Bank
With over 100 years of wealth planning experience, Fifth Third Private Bank delivers access to sophisticated investment solutions and challenges you to achieve the outcomes you desire. Our approach starts by understanding that each client is unique. Using a dedicated team approach, Fifth Third Private Bank collaborates to build plans centered around each individual and family. And because we have found many successful people may leave aspects of their plan unaddressed, our work doesn't stop there. We continue to help you focus and manage your wealth as our relationship with you progresses.
Learn More
Our Wealth Solutions for Your Personal Finances