Return to Nav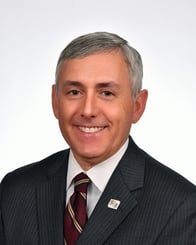 Wealth Management Advisor
Brian Weaver, CFP®, ChFC®
Address
251 North Illinois Street
Indianapolis
,
IN
46204
US
Contact Hours
By appointment
About Brian
As Wealth Management Advisor, Brian Weaver, CFP®, ChFC® serves as your wealth management coordinator and consultant. Brian collaborates closely with you and an experienced team of Fifth Third specialists to deliver the right investment solutions for your objectives.
Professional Experience
Brian is a Senior Vice President and Wealth Management Advisor with Fifth Third Private Bank, an exclusive division within the banking organization. He has over 25 years of financial services experience at Fifth Third. In his role, Brian leads an experienced team of highly credentialed financial specialists to offer holistic wealth planning strategies, customized investment management services, private banking, risk management and trust services. His team's primary focus is on delivering sound advice and guidance to affluent families and successful individuals, primarily business owners and corporate executives.

Brian and his team are committed to discovering what is most important to their clients, understanding their financial priorities and collaborating with them to build a complete financial plan that will ultimately help them achieve their articulated goals. Fifth Third Private Bank offers a comprehensive Life360 digital platform and process to assist in foundational financial planning. After completing the planning process, clients will have a better understanding of where they are today and where they want to go tomorrow, and have a clear and achievable plan of action to get there.

Brian has two professional designations, the CERTIFIED FINANCIAL PLANNER™ (CFP®) and Chartered Financial Consultant® (ChFC®). As a CFP®, Mr. Weaver has taken extensive exams in financial planning, taxes, insurance, estate planning, and retirement. CFP® professionals are also required to complete continuing education programs each year to maintain their certification status. The ChFC® is earned by completing a comprehensive course of financial education, examinations, and practical experience. Brian is a member of the Financial Planning Association (FPA), the membership organization for committed professional financial planners.
Education
Brian holds a Bachelor of Science degree in Business from the Kelley School of Business, Indiana University, Bloomington, Indiana. He majored in Finance and minored in Economics.
Licenses & Professional Designations
About Fifth Third Private Bank
With over 100 years of wealth planning experience, Fifth Third Private Bank delivers access to sophisticated investment solutions and challenges you to achieve the outcomes you desire. Our approach starts by understanding that each client is unique. Using a dedicated team approach, Fifth Third Private Bank collaborates to build plans centered around each individual and family. And because we have found many successful people may leave aspects of their plan unaddressed, our work doesn't stop there. We continue to help you focus and manage your wealth as our relationship with you progresses.
Learn More
Our Wealth Solutions for Your Personal Finances