Return to Nav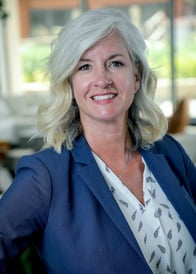 Director, Private Banking
Address
111 Lyon Street Northwest
Grand Rapids
,
MI
49503
US
Contact Hours
By appointment
About Beth
Serving the Grand Rapids area, Beth provides the personalized investment guidance you need to help make your financial goals a reality. Using a personalized, one-on-one approach, Beth works closely with you to develop an investment plan that works for your unique objectives.
Professional Experience
As a Senior Vice President and Director in the Private Bank, Beth has the privilege of helping high net worth individuals simplify their financial complexities by providing creative solutions in the areas of liability management, debt structure, cash management and long-term planning.

Beth has over 25 years of experience in the financial industry working in a variety of roles. She has been a Retail Center manager, a Commercial Lender and a Private Banker. Beth also has significant experience in credit underwriting, deal structure and developing unique financing solutions throughout her career.

Prior to Fifth Third, Beth spent 9 years as a Private Banker at another financial firm. In this role, she was focused on transitioning the firm from a wire house culture focused primarily on managing assets, to one that was inclusive of banking and lending. In order to successfully advise clients, it is imperative to evaluate both sides of the balance sheet. Her extensive background in liability management was an important key to her success.

Prior to joining that firm, she spent 19 years at another financial institution. The first 7 years were spent in the Bank's Retail Channel and the last 12 were with the Commercial Lending team. Beth had the opportunity to work with both Small and Middle Market size companies, helping them solve for a variety of business needs. She was responsible for expanding client relationships while managing credit risk. Over the course of her lending career she benefited from exposure to a wide assortment of lending solutions and debt structures.
Education
Beth obtained her B.A.S. in Business Studies from Davenport College in Grand Rapids, Michigan. She also earned Technical Specialties in Leadership Effectiveness and Human Resource Management. In addition, Beth completed the Executive Leadership Training Program through Inforum Center for Leadership.
About Fifth Third Private Bank
With over 100 years of wealth planning experience, Fifth Third Private Bank delivers access to sophisticated investment solutions and challenges you to achieve the outcomes you desire. Our approach starts by understanding that each client is unique. Using a dedicated team approach, Fifth Third Private Bank collaborates to build plans centered around each individual and family. And because we have found many successful people may leave aspects of their plan unaddressed, our work doesn't stop there. We continue to help you focus and manage your wealth as our relationship with you progresses.
Learn More
Our Wealth Solutions for Your Personal Finances