Return to Nav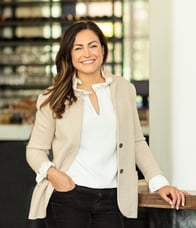 Wealth Management Advisor
Breanne R. Bovara, MBA, CPWA®
Address
9280 Montgomery Rd
Suite 300B
Cincinnati
,
OH
45242
US
Contact Hours
By appointment
About Breanne
Serving the Cincinnati area, Breanne provides the personalized investment guidance you need to help make your financial goals a reality. Using a personalized, one-on-one approach, Breanne works closely with you to develop an investment plan that works for your unique objectives.
Professional Experience
Breanne R. Bovara serves as a Vice President and Wealth Management Advisor for Fifth Third Private Bank. In her role, Bre advises high net worth and ultra high net worth individuals and families, as their "Personal CFO". She is responsible for hand-selecting a team of professionals to educate clients on their options related to wealth planning, investment management, trust administration, banking, and insurance services. She and the team work collaboratively with existing tax & legal advisors to promote a holistic and efficient delivery model.

With over ten years of industry exposure, Bre is focused on creating a personalized client experience in the Private Bank, by understanding their family and financial goals. Whether the intent is to grow assets, preserve wealth, leave a legacy (or a combination of all), Bre is passionate about advising her clients by having meaningful conversations that go beyond the numbers.
Education
Bre obtained her Certified Private Wealth Advisor® designation through the Executive Education program at University of Chicago Booth School of Business. The Certified Private Wealth Advisor® program is an advanced credential created specifically for wealth managers working with high-net-worth clients. Developed by the Investments & Wealth Institute®, the CPWA® program focuses on the life cycle of wealth—accumulation, preservation, and distribution. CPWA® certified professionals are able to identify and analyze unique challenges high-net-worth individuals face and understand how to develop specific strategies to minimize taxes, monetize and protect assets, maximize growth, and transfer wealth.

Bre received her Bachelor's Degree in Business Administration with a major in Accounting and her MBA from Youngstown State University.
Licenses & Professional Designations
About Fifth Third Private Bank
With over 100 years of wealth planning experience, Fifth Third Private Bank delivers access to sophisticated investment solutions and challenges you to achieve the outcomes you desire. Our approach starts by understanding that each client is unique. Using a dedicated team approach, Fifth Third Private Bank collaborates to build plans centered around each individual and family. And because we have found many successful people may leave aspects of their plan unaddressed, our work doesn't stop there. We continue to help you focus and manage your wealth as our relationship with you progresses.
Learn More
Our Wealth Solutions for Your Personal Finances