Return to Nav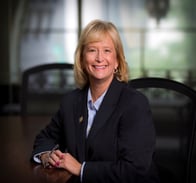 Wealth Management Advisor
Address
21 East State Street
Columbus
,
OH
43215
US
Contact Hours
By appointment
About Kate
As Wealth Management Advisor, Kate Logsdon CPWA® serves as your wealth management coordinator and consultant. Kate collaborates closely with you and an experienced team of Fifth Third specialists to deliver the right investment solutions for your objectives.
Professional Experience
Kate Logsdon has worked in the financial services industry with Fifth Third since 1989. Kate serves as a Wealth Management Advisor for Fifth Third Private Bank. In her role, Kate advises successful individuals and families, as their "Personal CFO". She is responsible for hand-selecting a team of professionals to educate clients on their options related to wealth planning, investment management, trust administration, banking, and insurance services. She and the team work collaboratively with existing tax and legal advisors to promote a holistic and efficient delivery model.

Kate is focused on creating a personalized client experience in the Private Bank, by understanding clients' personal and financial goals. Whether the intent is to help grow their assets, preserve their wealth, leave a legacy (or a combination of all), Kate is passionate about advising her clients as if they are members of her family, by having meaningful conversations that go beyond the numbers. Kate's client include business owners, corporate executives, physicians, and individuals with generational wealth.
Education
Kate graduated Phi Beta Kappa from the College of Wooster, Wooster, OH
Licenses & Professional Designations
About Fifth Third Private Bank
With over 100 years of wealth planning experience, Fifth Third Private Bank delivers access to sophisticated investment solutions and challenges you to achieve the outcomes you desire. Our approach starts by understanding that each client is unique. Using a dedicated team approach, Fifth Third Private Bank collaborates to build plans centered around each individual and family. And because we have found many successful people may leave aspects of their plan unaddressed, our work doesn't stop there. We continue to help you focus and manage your wealth as our relationship with you progresses.
Learn More
Our Wealth Solutions for Your Personal Finances